Last updated on March 22nd, 2016 at 08:49 pm
I lived in Rome for four years and I experienced most of the activities in the city, I visited all the famous attractions that Rome has to offer. Still, the thing I like the most is walking around Rome at night.
I was supposed to stay in Rome for just one year. After that another 6 months and from there 4 years were gone in no-time. I enjoyed it so much however there is a time for everything in life and the downunder was calling me. Lately on a flight from Australia to Europe I decided to stop over in Rome for few days.
I thought I could just do some walking around Rome at night, explore the city when most of the people sleep. Being fully jet lag it meant that I could easily wake up around 5pm and keep my Aussie-day busy till sunrise. Of course photography is my primary passion and spending time exploring the irregular grid of small lanes was just a joy.
I always loved Rome, how can't you, however this trip blew up my mind. Sometime we are blind, when we live in a place we easily get used to the beauty of it, and there is plenty in Rome. Being away for a while helps to clear up the brain and go back to the basics. Suddenly it all becomes a new beautiful surprise
Walking in Rome is like walking in a very busy open air museum. Walking around Rome at night is like having a stroll in a unique art centre at the closing time, when there is almost nobody around and you can stop and enjoy the many pieces of art.
What to do in Rome at night
Walking is the easiest and cheapest way to spend the night in the city. Walking around Rome at night exploring some of the most beautiful corners is just magic. You will find yourself making photos of every corner. It does not matter if you have a mobile or a big DSLR, you will keep shooting.
I had 3 full nights in the city and I knew there are so many things to do in Rome. I started my first night with a visit to the "Passeggiata del Gianicolo". The view of the city lights is really unique.
I suggest to start from Piazza Anita Garibaldi (go back there at noon for the Cannon Ceremony) and walk towards Trastevere, through Fountain Dell'Acqua Paola (see map below for more detailed info). This is a walk that is not that known by tourists, in fact you will most probably meet only locals.
Once arrived at Piazza San Pietro in Montorio, turn left in a no-through small lane, at the end you will see some steps that will take you down to Trastevere. This is one of the most hidden corners of Rome. Here you see the old entrance of the Real Accademia di Spagna and again another unique ancient corner of the eternal city. Encounters with tourists is going be there unlikely, just a few locals that take these steps as a short cut.
Hidden between the trees is one of the most beautiful view of Rome with the Trastevere in the foreground.
Trastevere district
What is Trastevere?  It is the area of Rome after ("Trans") the Tiber ("Tevere") river. It was considered to be the poor area of Rome, full of tiny lanes, almost a small maze where it was difficult to move with a horse. Nowadays if you venture with a car, well, good luck! I used to go in with a motorbike and finding a parking spot was already a chapter of Mission Impossible!!
Today Trastevere is one of the most picturesque areas of Rome. There is a trattoria every second corner, a tiny chapel every small square, a wine-bar every few hundred meters and obviously a big crowd that tends to disappear after 3-4am, the best time to start your photography adventure
What is the most popular car on this side of Rome? Surely the FIAT 500. There are two good reasons for that. Firstly it is so tiny that it can get through most of lanes. Secondly, and most importantly, it fits perfectly in this environment, so photogenic for our photos 😀
The Pantheon in Rome
I started my second night form the Colonna area, where the Political buildings are (see map below). There are some beautiful squares in this district, very well maintained. I wonder if the reason is that lots of politicians live and work around there 😀
There are many fountains in Rome. I really wonder if there are more fountains or chapels. What is the most famous one? Most probably the Trevi fountain. Who does not remember the symbol of the Italian Bella Vita.  That's my start of the second night walk.
This is a popular spot, expect lots of people even late at night. If you do not want to include people in your photo, have a walk on the right side, the highest point of the square and have your shoots from there.
By the way, if you are looking for shoes, go back during the day and have a check at "Sore'", a shoe shop on the corner. It was my main provider when I was living there. Great selection and prices.
Next stop is in the heart of the political power, Piazza Colonna e Piazza di Monte Citorio. They are both very big, pretentious and a beautiful subject for your night photography.
These are the Italian Government headquarters and you may see some personalities as well as non-violent protests. If you are there late at night you will not see anybody most probably, as in the photo here below
In the walk to the Pantheon there are lots of nice small squares, all with the famous San Pietrini, the cobblestones typical of this city. That is why it is far too easy to say that Rome is an open air museum. Because every corner will leave you open mouth.
Walking around Rome at night is not an A to B activity. The start and finish sites are just two excuses to stroll through a never ending source of surprises like the Gelateria Della Palma with a typical Italian Ice Cream
This is one of my favourite tiny square, called Piazza della Maddalena. So beautiful during the day, so mystic during the night
And here we are in Piazza della Rotonda. That's the beauty of Rome, you can walk in a tiny lane where the building are almost touching each other, and suddenly few meters later you step in a majestic big square with an ancient monument and most definitely the Pantheon is quite old, being opened in the 126AD by the Romans.
You can seat in a nice bar or restaurant to have a cold bear and spend easily hours watching the beautiful area around you and the Roman life passing by.
I personally spent some time there taking one of the photos I still like the most from my portfolio
I was pretty tired but I did want to explore my last site of the night, the Piazza di Pietra, a small square nested between 16th century buildings and the famous Adriano Temple. A perfect place to finish off my second night, I was already pretty tired. This heavy photography gear was killing me 😮
No, I did not set-up the scene, the bicycle happened to be there 😀
Vatican City and the Ponte district
My last night started quite late, just 1-2 hours before sunrise. I wanted to make a photo of the San Pietro Square without people, almost another Mission Impossible. Visiting the Vatican City without people around was something I always wanted to do. It was time to have a go.
Access to St.Peter Square is limited however it is probably the most secure place to be in Rome with all that police around.
I took the St.Angelo pedestrian bridge to move from the Vatican to the city center. Another popular area during the day, thanks to the well know St.Angelo Castle. You literally struggle to walk through the mass of people during the day, however during the night it is almost empty.
The St.Angelo Castle was the refuge where the Pope would hide during the foreign invasions. There is actually an unknown bridge that connect the castle to the Vatican city. It's just a pity that it is closed to the public. That would be an interesting visit!
I heard there is also a night Vatican tour that allows small groups to have an "almost-private" visit to the Vatican City. I did not take it and I can't say too much, however I will most definitely do it next time there!
On the other side of the St.Angelo Bridge is the Ponte district, another old part of Rome (what is not old in Rome anyway?). I was not fully happy with my night photography around St.Angelo and I promised myself to go back with more light.
I wanted to have a walk along the river, under the bridges, however I did not feel that confident. I was alone and there were quite a number of homeless sleeping under the bridges. I am usually not worried but carrying lots of expensive gear would have probably put me on a target position. No point to risk, so many nice spots around anyway.
The first light of the day was coming through the small lanes of Ponte. I could not stop myself stopping every corner and making photos of this beautiful area of the city.
It was really like having Rome for myself. I could not ask for more. What a great choice to tour Rome late in the night.
I walked through this tiny lane with an ice-cream shop (Via dei Coronari). It was very early morning, after sunrise. It's really impossible not to stop for few photos. This area was surely packed with customers only till few hours earlier, but at sunrise most of the city centre is like a desert, you can hear only someone snoring from the open windows.
I finally arrived in Piazza Navona. This square has one of the most interesting story in Rome. Once you enter you realize how funny is the shape, almost an oval, the reason is that this square was built on the site of an old stadium dated back to the 1st century AD. I live in Australia where anything older than 100 years is protected for cultural heritage. I was literally open mouth.
I know I lived for 4 years there and I should be used to that….but how can you get used to such beauty? That night visit opened my eyes I must say. I was probably blind when I lived there, or maybe I was just younger 😀
There was a small resident art market in Piazza Navona that was setting up. The day was starting and I was part of it. I was looking forward to my coffee and cornetto but I still had few photos I wanted to make
It was time to go back to the St.Angelo bridge. I wanted to have a photo of St.Spirito. The legend says that Rome started from there. There is now an hospital, probably the oldest one of the capital.
For the photo above I walked down to the river. I felt a bit more confident with the light.
I was happy with my wondering around. I had a real blast for three nights. It was time to find a nice cafe' and have a chat with some locals about football, always a great fan in Italy and sure to have a common subject which everybody is interested to.
Is Rome safe at night
My experience in Rome during my walking in the night was very safe. There are dodgy people in every big city and with 6 million you are quite likely to meet a few.
There are areas I would avoid all together. If you stay in the central area I would not walk around Termini Station. It's not like there are people around with weapons however I never felt 100% comfortable in that area. Of course it may be just me.
I would not walk along the river during the night, too dark.
I personally did not experience any problem however I was quite careful with my movement and I had always four open eyes to see if there was anyone particularly interested to my gear, probably not a good sign.
Other things to do in Rome at night
Rome is a big city, scattered through a big area delimited by a ring highway called Raccordo. Even if the most beautiful part of the city is the center I would suggest to visit also other areas, especially for the nice movida of mostly local people.
Testaccio: it used to be one of the poorest part of Rome. Not anymore. It is one of my favourite for the big selection of local Trattoria and Pizzeria.
Ostiense and San Lorenzo: these are the two districts that tend to attract a young crowd with bars and live music
Ponte Milvio and Eur: for a more pretentious night. Some great night club but smart dressing is mandatory
Estate Romana: if you are in Rome in Summer, remember to pick up the program of the Estate Romana (Summer in Rome), there are so many concerts, dancing areas, open air cinemas etc etc
and so much more!
Where did I stay in Rome
Easy to say that there is a huge selection in Rome. I was on my own and I preferred to stay in the city center, it would have been so much easier for my walks. At the end I found this hotel which fascinated me for its interesting interior, it's obviously called Colors Hotel :D. It's next door to both the Vatican and St.Angelo. It was definitely good value, clean, with a nice terrace on top and lovely people working there.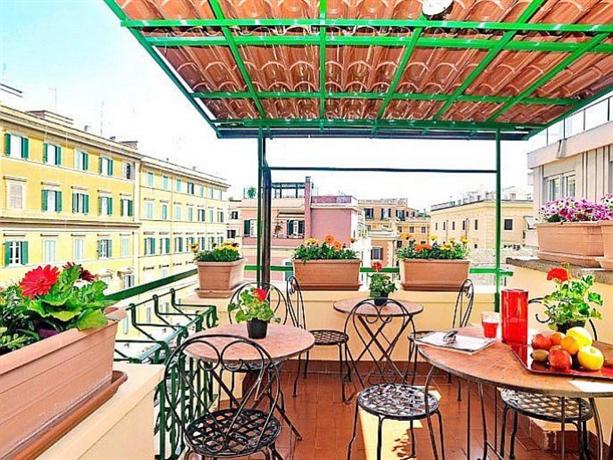 I can only suggest it. They offer also breakfast at 6 Euro if I remember well. Plenty of it, slurp
Photography tips
For my night photography walks I had always with me two tripod
the Joby mini tripod: this is the small 30cm gorilla tripod. I bought it originally because I thought it can be quite useful for some quick shots where you can place the Joby either on a pole or a wall or for some shooting from the floor
the big carbon tripod: I love my tripod, it's sturdy, quite tall, not that heavy as others but to set it up I definitely need time, it's not a quick action. I used it when I was confident I was going to spend some time in the place.
I had a Canon during this trip, just for a change, an APS-C model. I was very happy with the outcome, although on a 100% zoom exam I definitely could see a difference with my usual Nikon D600 Full Sensor. Obviously it's also two different price category therefore somehow expected (you get what your pay for). In say that it would be hard to see a difference in any print up to A3 I reckon.
I had a 28-105 lens and a quick prime lens 80mm which I used for a visit I had during the day at the local market.
Although the Canon was not as big as my Nikond D600 (and as heavy) I really believe that a mirror less would have worked better. When I move around a big city with a big camera I always feel a bit uncomfortable as I may become a thief target. The mirror less are so tiny and they do not look like expensive gear to the common robber.
For the best city landscape I definitely recommend a visit to the Gianicolo on sunrise, you will have the sun right in front of you and, if you are lucky enough, a touch of mist, enough to give that mystic and magical effect that Rome deserves.
On sunset I suggest instead to be at St.Angelo to have a photo of the St.Peter square, the sun will set just behind the cathedral.
At night I loved my walk at Trastevere and my shots in the Pantheon area. Next time I will dedicate even more time to that areas. So many small squares.
I believe that walking around Rome at night is definitely a must do experience. I love the city during the day too but it is so overcrowded with tourists, locals and politicians. Almost impossible to have a clear shot.
Map of the Rome walks
You can check the Google interactive map here