The Ta Moan temple is one of the most incredible and freakish experiences I would (maybe not) suggest to everybody. To arrive there you need luck and a good GPS system (chek my travel photography apps list for a good off-line map with gps)
Is it worth a visit?
Hard to say, there are few benefits as lack of tourism, in fact I was the only one there (scary). Somehow I felt like I was living a unique experience which goes beyond the tourist or traveller experience. Far from Indiana Jones but away also from Kho Samui, Bangkok or Ayutthaya, all beautiful places to visit, however typical places on many people's to-do-list.
Yeah, I know, it is an experience I could have paid literally with blood but still I am happy I have done it. Would I suggest it? Not to everybody, at least now you know you are taking a reasonable risk.
The Cambodian–Thai border dispute
Although the dispute over the border is officially ended and Ta Moan is now part of Cambodia, in reality both the Thai and the Cambodian armies are still there, literally elbow to elbow with weapons in hand. To access I needed to leave my passport at the Thai Army check point but no stamps or official papers in return, just a number, as at the cloakroom.
I always feel better thinking I have two nationalities and passports and if one is lost I can always use the other one, although I believe it is not that simple. Being without passport is one of the NOT-DO things that any traveller should learn first. But sometime rules are made to be broken
The last real problems were experienced in 2011 with clashes that caused one Cambodian soldier to die and a Thai one to be wounded. Time has passed and no more issues since, however caution has to be taken.
How is the Ta Moan temple visit
Once in I am escorted to the main temple area , I am left there to wonder around but the eyes of both armies are always after me. I am never alone.
Yes, I am a bit nervous, if only for the fact that this is nobody's land and I have no passport with me.
The temple is just beautiful, maybe only for the fact that I am alone (beside the soldiers) without any other visitor. Clearly this is not a touristy place.
Where did I sleep
There are no accommodation close to the Ta Moan temple. It's also a bit of the trip to get there too but totally worthy because of the situation in which is this nobody's land (or everybody's land I should say). If you are passionate about the Khmer history you should add it to your bucket list and make the effort
I decided to sleep in Nang Rong and keep the small town as a base to visit, beside Ta Moan, the Prasat Phanom Rung Historical Park and the Muang Tam sanctuary.
Honestly there is not much competition in the area. And I mean not as many hotels/hostels. I would recommend to book your accommodation in advance unless you are prepared to spend lots of time looking around. I stayed at the Park Nangrong Resort and it was absolutely good value at around $30.
Lovely garden and nice and clean room.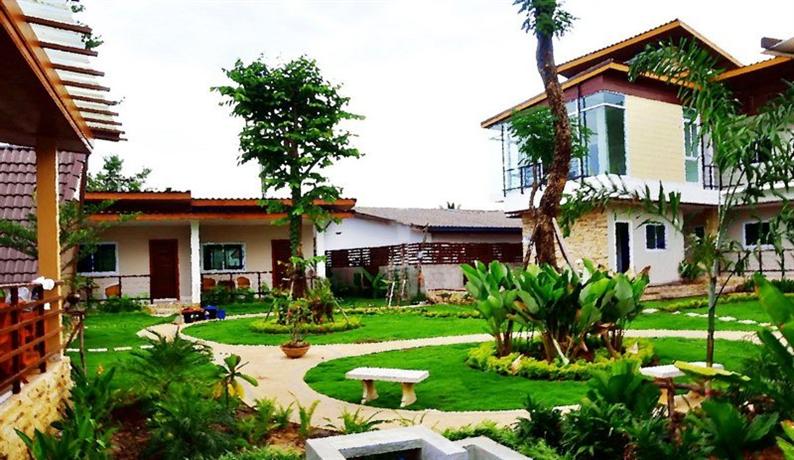 Ta Moan how to get there
The closest town with accommodation is Nang Rong. In Thailand there is always a bus to any place you want and surprisingly enough there is a direct one running from Bangkok's north-eastern bus terminal (Mo Chit) to Nang Rong, it's a 5 hours trip. In saying that I decided to drive a rented car here to have more flexibility in my exploration.
Once in Nang Rong you can rent a motorbike/scooter (250-300 baht) or rent a (motor)taxi for a day. Ask also your accommodation if there is any trip going to Ta Moan. If you are in 3-4 of you probably sharing a taxi is the best option
Travel Photography tips
January to March are the driest months and you will have the best sunset and sunrises
take a mirror less or small camera at Ta Moan and you will be able to make some unique photos including both armies in this nobody's land. I had the DSLR as well and they stopped me whenever I was including soldiers, maybe thinking I was a Time journalist LOL
do not visit Ta Moan in the late afternoon. It may be more ideal for photography but you do not want to risk to drive in the dark. It is already complicated to find your way around during the day
plan carefully with the map your trip. There are almost no street signals
Map with top sites to visit
Above map includes also the Prasat Phanom Rung Historical Park and the Muang Tam sanctuary.
Unfortunately it is time to move on, have a sleep and organise the last leg of the trip, drive through the border and make it to Angkor Wat by car. Is it possible? We shall see