Last updated on February 25th, 2013 at 03:44 pm
In the previous posts we talked about
That's pretty cheap and easy, isn't it.
Ok, now you have the space, a simple website already active. What's next? The next step is to activate a better looking website for $0 (free, yes)
I have organised a playlist on my YouTube channel with 7 videos on How to use WordPress. You could skip them and continue with this article, however I really suggest to watch them. All together takes just over 30 minutes and it is really worth it, believe me. These videos will give you the confidence you need to move forward. Building a professional website can be tricky, or very easy once you have the good fundamentals of WordPress. Remember that WordPress is free, fantastic!! You will pay only for the physical space on your host provider but that can be less than $2 a month.
Now it's time to google your favorite theme you can load into your space. A good news is that there are many of them, the bad news is that there could be too many and when the choice is too wide it is always difficult to choose.
The first decision you need to take is if you want to pay (around $30-$50) for a more professional theme or you are happy with the free themes that are on the market. As an example, my website MEL365.com is based on the free theme Modularity Lite of Graph Paper Press.  These guys are quite amazing and they provide a set of free options which are really awesome.
I list below three of my favorite themes. A wider list is posted in the follow-up article give your photo&video website a professional look . Again, a theme is just the interface you want your website to have.
This is a lovely free theme that gives a flexible way to build your photo portfolio as well as a blog for the latest news. I like both the presentation of the pictures, all squared in a nice puzzle, and the blog.  Before taking any decision check the demo site and see if it fits to your needs.
If you are more into a Pinterest style of Photo-Blog here it is Gridly. What I like of this solution is that it takes the usual blog to another dimension, a visual dimension. You could post your photos based on dates and projects. You assign a feature image to your article which is the main one for your article, the one that will come out on your main page. Pretty easy going. Gridly is produced by Eleven Themes, based in Melbourne, Australia. I did not try it on the mobile but it looks great on the picture below.
This is another great and easy theme. Its' a winner if you want something extremely simple for your family photos, a photowalk, travel photos. It's easy to browse through and go where you want. It does not have all the features of the others maybe but that's because it's a great minimalist theme.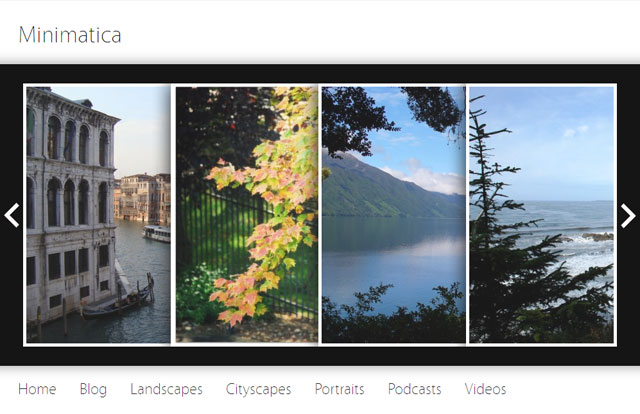 ---
Between the three above themes, as an exercise, I will activate Gridly and I will show you how quick is the process. I do not have connections with the writers of Gridly. I have selected it because it is the first time I see it myself and I am quite curios to see how it comes out
First step is to go on the Gridly webpage and download the zip file. Once done login to your wordpress space (usually Yourdomain.com/wp-admin) and go on the Appearance > Themes option
---
Now you can upload the the zip file you downloaded from Gridly. You need to go on Install Themes, select upload,  and Choose the gridly.zip file and Install Now.
---
You can now see a Preview (before activating the them) or you can just activate it (so I have done). If you look at it, there is nothing exciting about it, but that's because there is no content. Start populating it with some posts. It is important that for each post you define the Featured Image in the bottom right of each post (see picture below). If you don't do that you will not see any picture in the main page
---
Try to add few posts on it and you will have the below interface.
---
In case you do not see any photo, go back to the post and check if you have loaded the Featured Image.
One last thing you can do is to add either your logo or a picture on the top of the web site. In my case I have added a night view of the Melbourne CBD landscape. To do that, go to Appearance, than Gridly Options and Choose your file. Easy done!!
---
The interface really looks great at this point. It needs some content of course.
In the next article I will look for more themes, both free and not. Few of them are just great. This will help to give your photo&video website a professional look